Roof Integrated Modules
Photovoltaic roof tiles or shingles are usual roof tiles with integrated solar cells used for roof covering, together with standard roof tiles or shingles. They are tightly integrated into the roof. Many different forms are used - photovoltaic roof tiles, photovoltaic roof shingles, solar laminates, modules with integrated solar cells as roof covering elements, transparent laminates or modules on ligh weigt substrate for flat roofs etc. Solar (photovoltaic) roof tiles and shingles are probably the most interesting possibility how to integrate solar cells into the building's roof. Many different forms of solar roof tiles are available on the market. The most common solutions are photovoltaic roof tiles with amorphous solar cells. Roof tiles with mono- or polycrystalline solar cells can also be used together with the classical roof tiles of the same producer, in such case higher temperature and lower yield in case of limited air flow behind solar roof tiles must be considered during design phase. Roof shingles are produced with crystalline or with thin-film solar cells. Other possibilities are thin film solar cells on glass or metal substrate.
Photovoltaic Roof Tiles and Shingles
As roof-integrated modules usually laminates without frame are used. Special types are solar roof tiles or shingles. For details please visit solar roof-tiles section. As roof integrated modules other module types can also be used for example: flexible modules, transparent or semitransparent modules, thin film modules etc. Some advanced sollutions were presented in past few years. One of the most aesthetic solutions (product is no longer available) was probably the Pfleiderer's Roof Tile Terra Piatta Solar produced by Pfleiderer-Dachziegelwerke. Product was awarded with the German Design Award 2002.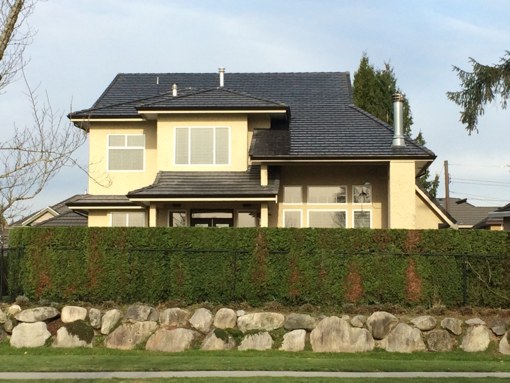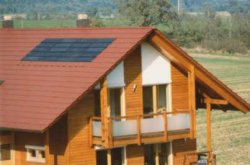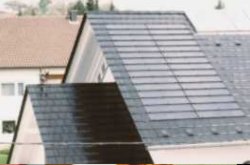 Solar roof tiles and shingles are connected to each other via usual connectors used in photovoltaics. The power range spans from several Watt (roof shingles) to about 100 Watt (roof tiles with crystalline solar cells). Special (custom) designed solutions are glass laminates with integrated solar cells or thin film solar cells on glass or metal substrate. Thin film solar cells on metal substrate are used for integration into facades too. Some roof tile producers offer different roof integration possibilities for solar thermal and photovoltaic systems.
Photovoltaic Modules for Flat Roofs
For flat roofs amorphous Si (usually flexible) modules are available. As modul substrate EPDM (ethylene propylene diene Monomer/M-class) synthetic rubber is used. This material can also be used in combination with bitumen what makes it a preffered choice for flat roofs.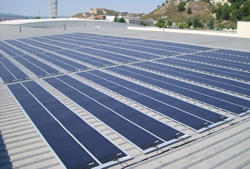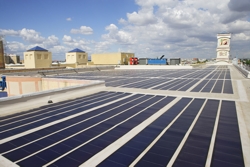 Roof Integrated Tiles and Historical Heritage
Into church's roof in Mecklenburg-Vorpommern (northern Germany) 88 mono-crystalline Terra-Piatta-Solar® modules with peak power 5 kWp were integrated. Carefully planned photovoltaic system with 50 m2 large array does not suffer from the partial shadowing of the modules.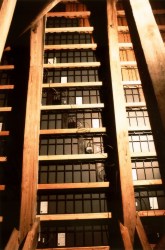 Commercially Available Solar Roof Integrated Modules & Systems
Solarwatt - EasyIn photovoltaic modules replace conventional roof tiles. They protect your home just as reliably as a normal roof and simultaneously produce the electricity for your house.
Ergosun - Ergosun is an ultra-thin solar membrane that is extremely lightweight but very strong. It is sized and coloured to match the host tile which can be any commercially available flat concrete or clay tile.
Kalzip - The roof-integrated photovoltaic system with Kalzip AluPlusSolar has created new possibilities for creativity in modern solar architecture. The flexible yet tough solar film can create straight, convex, and concave shapes.
Atlantis Energy Systems - Atlantis Energy Systems was founded in 2002 on the principle that quality construction materials and and methods should be the standard. That tradition has always been a part of our tradition and continues to this day. We have the right people, the right experience, the right products, and the right services to do any size project.
MegaSlate - The MegaSlate® solar roof system is a trendsetting, architecturally appealing product, especially suited to new buildings and roof refurbishments.
Sunstyle - The roofing system comprises square tiles whose diagonals overlap from top to bottom.
Lumeta Solar - Lumeta PowerPly is a Building Integrated Photovoltaic module for low slope applications.
PV Solar Tiles - solar roof tiles produced in Australia.