Transparent Solar Modules
Transparent solar modules offer very attractive BIPV sollutions. Modules with different transparency rates and/or different technologies are available on the market. Most common they consist of transparent crystalline cells, very often are also modules with transparent back side and with standard crystalline cells. Another interesting sollution are thin film transparent amorphous modules. Transparent modules can be used as window glazing in usual windows, sunspaces, they can be integrated into roofs etc. Quite often they are also a part of shading devices whether movable or not. Such systems are also knows as shadow-voltaic systems. Transparent modules can be also part of energy efficient glazing, where they are used instead of usual glass. With coloured back side interesting architectural visual effects can be obtained. Such sollutions are often used in old architectural protected heritage buildings. Example of heritage building renovation with photovoltaic roof tiles you may also find in roof tiles section. Very attractive are also thin film modules because they offer some tailor made sollutions - different shapes or patterns within modules are possible.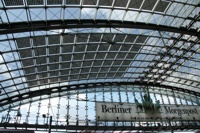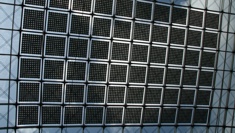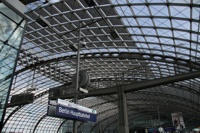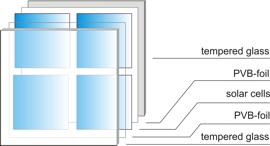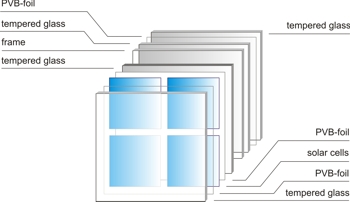 Facade Glazing
Different types of transparent modules are used as glazing, most common crystalline as single glazing or double (low U-value) insulation glass. Transparent modules can also be used in sunspaces and atriums.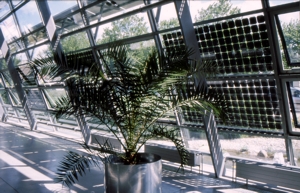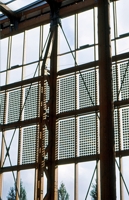 Roof Integrated Glazing
As roof-integrated transparent modules usualy glass-glass laminates without frame are used. For Special roof types like curved roof plastic laminates are used. Crystalline cells are most common sollution - transparency rate is defined by distance between solar cells (as larger the distance as larger the transparency rate of transparent modules). For roof integrated glazings use of laminated safety insulating glass modules is obligatory due safety issues.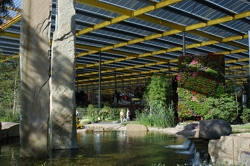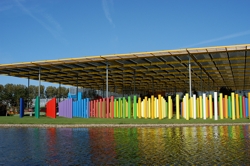 Transparent Modules as Shading Devices
Transparent modules are often part of shading devices. Shading devices, like overhangs for example, can be fixed or movable. Manual tracking-combined with shadowing system, or automatic tracking systems can be realised. Very often they are realised as venetian blinds or classic awnings. Vertical ond horizontal shading devices are used in practice. If transparent modules are integrated into transparent roof or sunspace glazings they also offer some shading so additional shading devices are usually not necessary. Some shading devices you may find in pictures below. For details about shading calculation, shading analysis tools etc. please see shading section.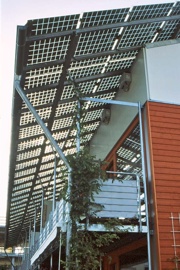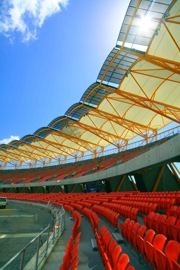 Transparent Flexible Modules
Front and back side of flexible modules, with crystalline solar cells, are most often produced from plastic materials like poly(methyl methacrylate) (PMMA) known also as plexiglas® or polycarbonate. Polycarbonate is one of the most common plastic materials used. Widely used is polycarbonate available under commercial name makrolon® for example.
Commercially Available Transparent Modules
ertex solar - the goal of ertex solar is fabrication of high quality solar modules, to extend the opportunities for utilizing photovoltaics in architectural design as well as building integration.
Taiyo Kogyo Corp. - Transparent Photovoltaic Glass.
Sunovation - the leading supplier of lightweight plastic solar modules worldwide.
Solar-Veranda - von Solarwatt verbindet die Vorteile der leistungsfähigen Glas-Glas-Module mit einer hochwertigen Holzkonstruktion zur Überdachung Ihrer Terrasse (in German language).
Solar Glass
Saint Gobain Glass - high energy transmittance patterned glass.